A90 Cable Pulley - 8 Unknown Uses
Written by: Team Angles90 
Are you one of those athletes who thinks cable pulleys are a mere substitute for lat machines? Good news: You are wrong!
Below we list eight different uses that will bring the most value out of your pulley investment.
1. Five back movements other than lat pulldowns
When training your back, you should hit it from all possible angles. Be it pull-overs, rows, bent-over rows or face pulls - your cable pulley lets you perform an (almost) complete back workout everywhere. But why "almost"? Check out the next paragraphs, especially #4.
2. Different grip widths with the dumbbell-Angles90 setup
3. Attachable everywhere with the A90 Sling Trainer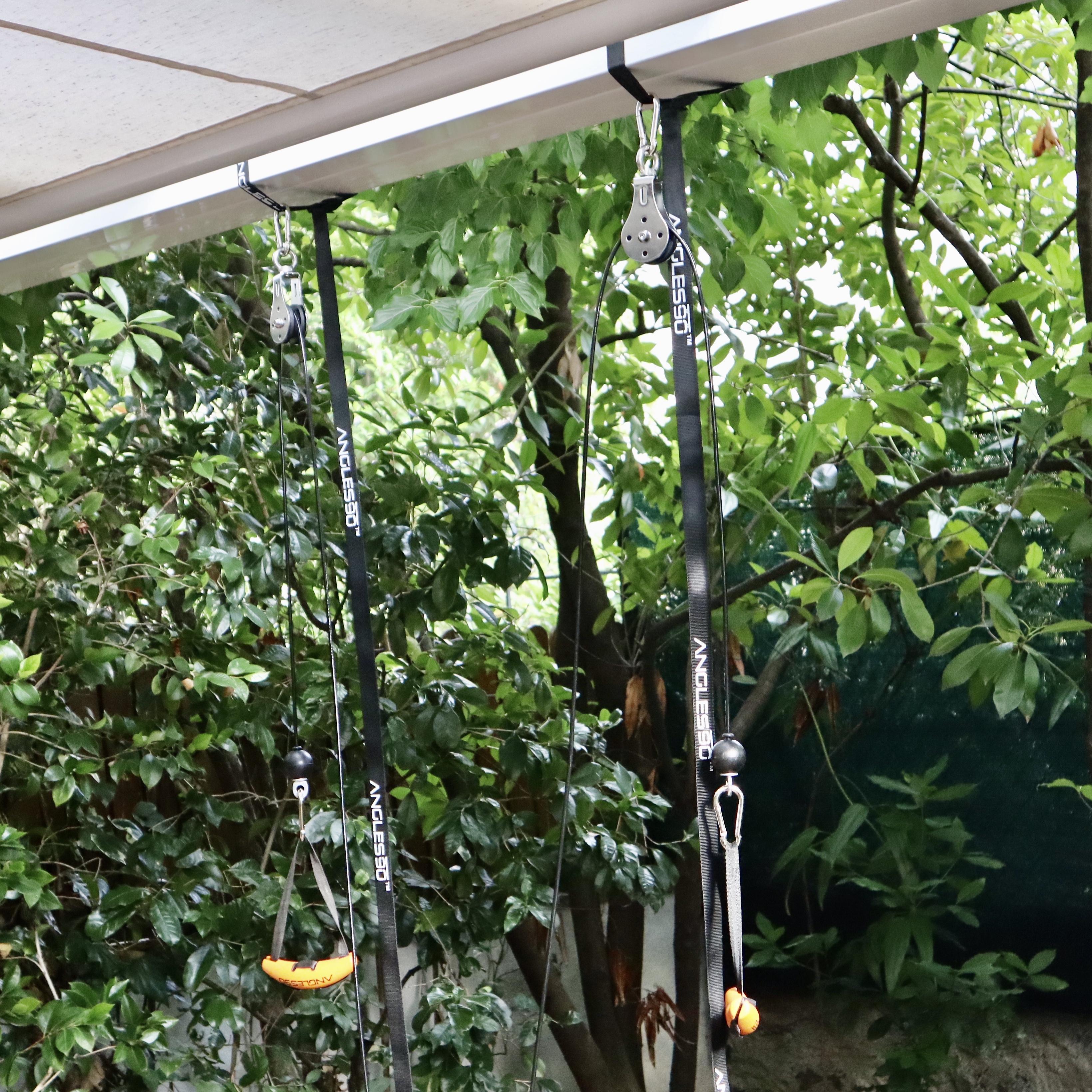 The standard pulley strap enables you to mount the pulley on bars. The A90 Sling Trainer, however, can anchor your pulley (and your resistance bands!) onto trees and thick beams too! In addition, your sling trainer can be utilised to adjust the height of your pulley. This can be especially helpful when used on balconies.
4. Two pulleys = Three times more exercises
Coming back to why one pulley only allows you almost to perform a full back day (see paragraph 1 above): Having two pulleys basically replaces a seated low-row machine and enables you to train in different grip widths like wide-grip lat pulldowns.
On top of pull movements, you can enrich your push and arm workouts as well. By the way, here you see how to set up two pulleys horizontally and vertically properly.
5. Lift all kinds of weights with the A90 Homemade Weight
Our newest innovative product lets you lift any kind of heavy objects like stones, sandbags, bricks, bottle crates or a mix of them.
Even bigger advantage: Lift conventional weights faster! Instead of removing plates from dumbbells to load them onto the pulley's loading pin, now simply put the whole dumbbell into the rope net.
**Available worldwide except Europe (coming soon!)
6. Eccentric overload to maximize stimuli
Compared to most machines in the gym, the pulley makes it possible to put more load during the eccentric phase. In terms of maxing out your target muscle, you want to implement this method because we tend to be stronger during the eccentric phase of an exercise. How to do it: Simply let your workout partner gently lean on the weight or on the pulley rope.
7. Alternating bodyweight rows & partner workouts
Instead of attaching weights to the pulley rope, add a second Angles90 handle. You can now literally slide between left and right single-arm rows, as well as perform any kind of suspension movements, which now get even more functional. Another way of using this setup are partner workouts, where you either pull against your partner and gently create resistance, for example, when he/she does triceps pushdowns.
8. Loading pins as dumbbell substitutes
If you don't have any dumbbells available or just want to have more dumbbell pairs at home, combine an Angles90 handle with the loading pin of the pulley (which is already included in your cable pulley package). For dumbbell curls, please use the so-called Power+ grip method. Apart from biceps curls, your DIY-dumbbells also work fine for bent-over rows and sumo squats.
Ready to expand your (home) gym or simply make more out of your limited training area?
All mentioned products are exclusively available in our official online shop angles90.com !
Last but not least - before you ask yourself what actually makes our pulley system different from others: In certain pulley bundles in our shop, we include the Angles90 Grips, our main product. Read in our shop why you should use them on barbells, pull-up bars and rowing machines as well.